Art quilts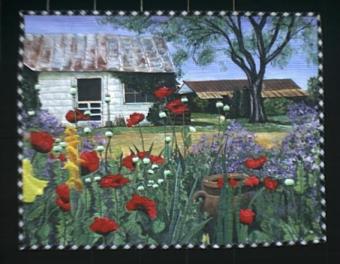 "A Coping Haven", by Helen Simon, 36" x 28". Painted cotton with free-motion quilting, juried into, "Quilts, A World of Beauty," at International Quilt Festival, Oct.-Nov. 2002, Houston.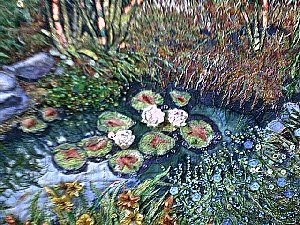 "A Garden, Well-watered", was juried into "Encrustations", Page-Walker Arts & History Center, Cary, N.C., and was shown in Houston, at International Quilt Festival. Appliquéd of my hand-dyes, painted, free motion quilted, heavily embroidered & beaded, with lame. This quilt was also published in Quilting Arts magazine, Fall, 2002 .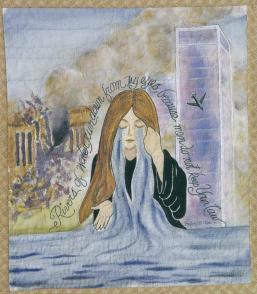 "Rivers of Water" 20.5"x23.5" This quilt, published in "America from the Heart", 2001, expresses my anguish and hope for America.
Occasionally, I make small quilted bags, perfect for cell phones, to display particular Beads, as those below. The juxtaposition of quilted hand dyed cotton and the glass is wonderful! I'll be making more of these soon...some for Ebay and perhaps some to sell here, too!